When it comes to selecting a new vehicle, one of the most important factors for many drivers is fuel efficiency. Not only does a vehicle with great gas mileage help the environment, but it can also save you a significant amount of money over time.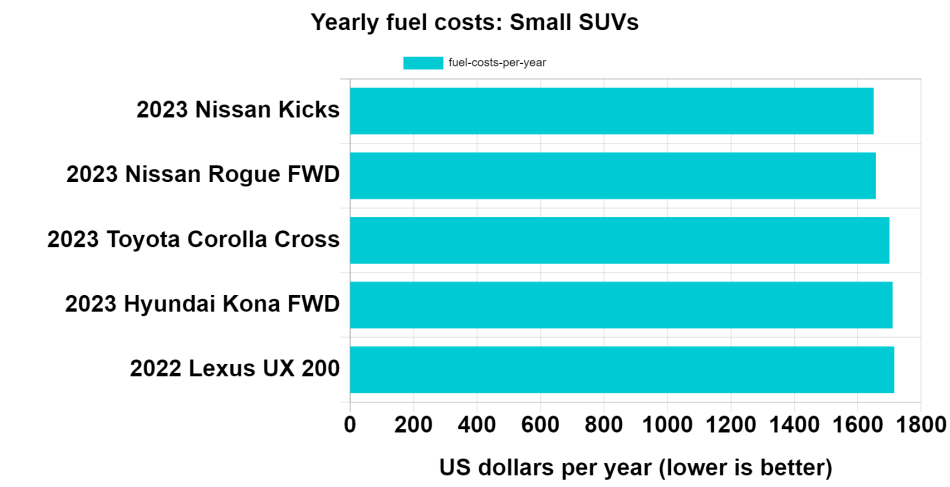 Small SUVs are built using lighter body frames than the large models, that and more helps them to be more fuel efficient. Today, we'll be diving into the 5 best small gasoline-powered SUVs of 2023 with the lowest yearly fuel costs – based on EPA estimates.
1. 2023 Nissan Kicks 1.6 L
Total average fuel costs per: $1,650
With a combined fuel economy of 33 MPG, the 2023 Nissan Kicks offers impressive fuel efficiency for a small SUV. This model also boasts a total range of 356 miles. The annual fuel cost for the Kicks is estimated to be $1,650, making it an excellent choice for those looking to cut down on their yearly gasoline expenses.
2. 2023 Nissan Rogue FWD
Total average fuel costs per: $1,657
The second spot also goes to a Nissan model, the 2023 Rogue. With a fuel economy of 30 MPG in the city and 37 MPG on the highway, the Rogue's combined fuel economy matches that of the Kicks at 33 MPG. However, with a total range of 478 miles, the Rogue offers more distance before needing a fill-up. Its annual fuel cost is also estimated at $1,657.
3. 2023 Toyota Corolla Cross
Total average fuel costs per: $1,700
The Toyota Corolla Cross hits the list with a combined fuel economy of 32 MPG. Though slightly lower than the Nissans, the Corolla Cross still offers a respectable total range of 397 miles. Its annual fuel cost sits slightly higher at $1,700.
4. 2023 Hyundai Kona FWD
Total average fuel costs per: $1,710
The Hyundai Kona brings style and fuel efficiency to the table. Matching the Toyota with a combined 32 MPG and offering a total range of 422 miles, the Kona proves that you don't have to sacrifice style for economy. Like the Toyota Corolla Cross, the Kona's annual fuel cost is estimated at $1,700.
5. 2022 Lexus UX 200
Total average fuel costs per: $1,715
Rounding out the top five is the Lexus UX 200. As a luxury SUV, the UX 200 combines the luxury and refinement expected from Lexus with surprising fuel efficiency, offering a combined MPG of 32 and a total range of 397 miles. Its estimated annual fuel cost matches the Kona and the Corolla Cross at $1,700.
Conclusion
While these five SUVs are top-of-the-line when it comes to fuel efficiency, it's important to remember that actual fuel costs will vary based on factors such as individual driving habits, current gas prices, and the specific conditions in which the vehicle is used.
For more tips on how to save at the pumps, check out this article on gas apps and other discounts.
Choosing a fuel-efficient SUV is not only good for your wallet but also contributes to a greener future. As gasoline prices continue to fluctuate, investing in a vehicle with a low annual fuel cost can provide significant savings in the long run.