Whether you're heading out of town for a family vacation or planning an epic road trip, renting a full-size SUV is the perfect way to get around. But with so many car rental companies offering different models and prices, how do you know which one is the best bang for your buck?
Fear not.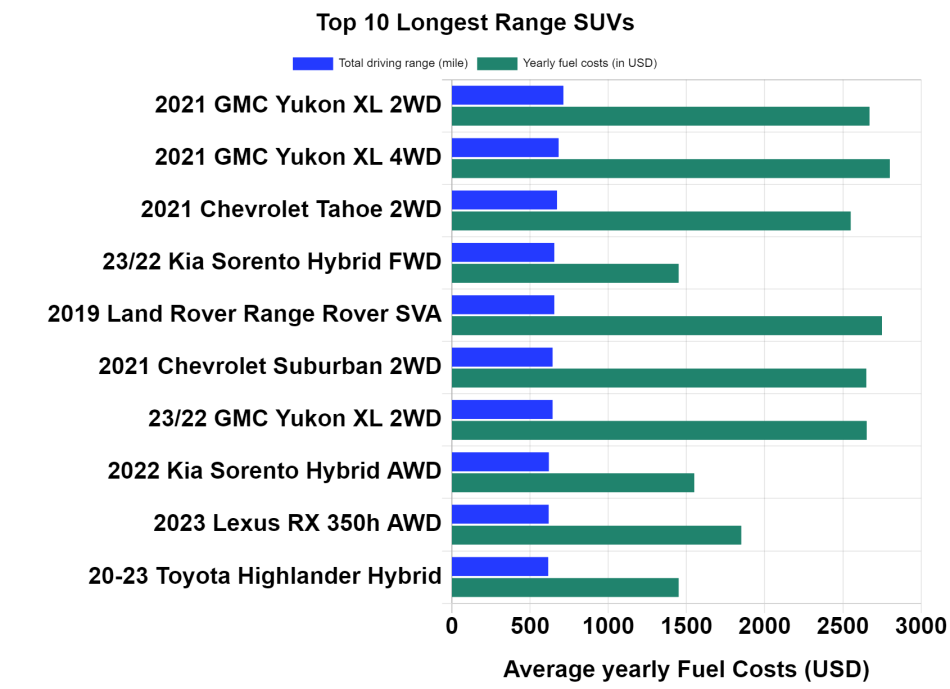 We've scoured the market to find the top 5 cheapest full-size/large SUVs that are worth every penny – when you rent. Read on to learn about the best large SUVs that are also easy on your wallet.
1. Ford Expedition
If you're looking for plenty of room without breaking the bank, then look no further than the Ford Expedition. It's spacious enough to comfortably seat up to 8 people and comes with all the bells and whistles you need on a long trip.
Plus, it's surprisingly fuel-efficient compared to other vehicles in its class. So if you plan on taking lots of trips this year, then opting for the Ford Expedition could save you some serious cash in gas alone.
2. Chevrolet Suburban
The Chevrolet Suburban offers unmatched versatility and value in a full-size SUV. With seating for up to 9 passengers, it offers plenty of room for families or groups of friends alike.
And its large cargo area makes it great for hauling gear or luggage when needed. What's more, thanks to its powerful engine and well-equipped interior features like Apple CarPlay and Android Auto compatibility, this vehicle provides an enjoyable driving experience at an affordable price point.
3. Nissan Armada
The Nissan Armada offers superior comfort and performance at an impressive price point. This SUV is equipped with a strong V8 engine and comes standard with features such as heated leather seats, a navigation system, and a rear entertainment system.
This car is perfect for keeping everyone happy during long drives. It also has excellent safety ratings that make it a great option if you're going on rugged terrain or off-roading adventures.
4. GMC Yukon XL
If you need plenty of room but don't have an unlimited budget, then consider renting a GMC Yukon XL – it has everything you need without breaking the bank. This full-size SUV comfortably fits up to 8 passengers while boasting plenty of cargo space in its trunk area (making it perfect for those family vacations).
Plus, with its powerful V8 engine and advanced safety features like lane departure warning and blind spot monitoring systems – this vehicle is sure to provide both power and peace of mind during your travels.
5. Toyota Sequoia
Last but certainly not least is the Toyota Sequoia – a capable full-size SUV that won't break the bank. This vehicle has seating for up to 8 passengers so there's plenty of room for everyone in your group (and their stuff).
With its reliable 4WD system, you can be sure that it will handle whatever Mother Nature throws at it during your travels. All these features combined make this one of our top picks when looking for cheap full-size/large SUVs worth renting this summer season.
Conclusion
Whether you're headed out on vacation or just want something bigger than your usual ride. Choosing one of these five large SUVs can help make sure that your trip goes smoothly without breaking the bank.
They all offer great value whether it's their spacious interiors or advanced safety systems – making them ideal choices when looking for cheap rentals this summer season. So what are you waiting for? Pick one today so that you can start planning your next adventure.
Main image courtesy: Toyota