Must Have Camping Accessories for Your SUV
Camping is a great way to spend some quality time with nature and get away from the hustle and bustle of everyday life. Whether you're planning a quick weekend getaway or an extended stay, having the right gear and accessories can make your camping experience more enjoyable and comfortable.
If you're planning to take your SUV camping, then you may want to consider some of the best camping accessories available.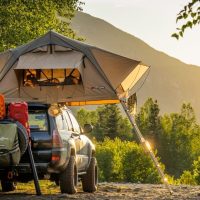 SUV roof rack
One of the most important pieces of equipment to have when camping in an SUV is a roof rack. This will allow you to store and transport a variety of gear and accessories, including tents, sleeping bags, coolers, and more. Look for a roof rack that is made from durable materials and can handle the weight of your gear.
SUV tents are getting popular
Another must-have camping accessory for your SUV is a tent. A good tent should provide plenty of room for you and your family, while also being lightweight and waterproof. Look for tents that are designed to be easy to set up and take down.
Cooking while you go camping is easier now
If you plan on cooking while camping in your SUV, then you'll need a good stove. Look for a stove that is lightweight and compact, but also powerful enough to handle your cooking needs. A good stove should also be easy to use and clean up.
Keep your food and drinks refrigerated
Having a good cooler is essential for any camping trip, and the same goes for camping in an SUV. Look for a cooler that is large enough to store food and drinks for your entire group, but also small enough to fit in your SUV. Make sure the cooler is durable and capable of keeping your food and drinks cold for long periods of time.
Your final must have camping equipment
Finally, you'll need a good set of camping chairs. Look for chairs that are comfortable to sit in and have plenty of padding. Make sure the chairs are also lightweight and easy to transport.
Go out and enjoy the out doors from your car
These are just some of the best camping accessories that you should consider if you plan on taking your SUV camping. With the right gear and accessories, you can make your camping experience more enjoyable and comfortable.