Do you ever dream about owning an SUV that combines the practicality of spaciousness with the thrill of a supercar's speed? Well, it's not just a dream anymore.
We're now living in an era where certain SUVs can compete with sports cars in terms of acceleration, thanks to major advancements in technology and design.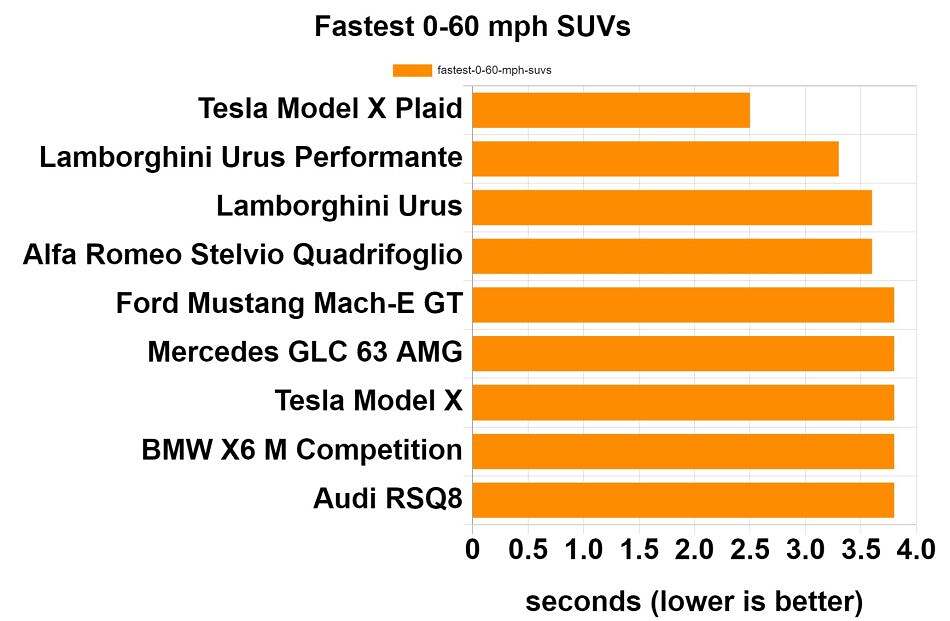 The fastest 0-60 mph super SUVs
Buckle up, and let's explore the fastest SUVs of 2023, which can rocket from 0 to 60 mph in the blink of an eye.
Msrp: $108,490
This electric beast tops the list with a 0-60mph time of an incredible 2.5 seconds. It's not only the fastest SUV on our list, but it's also the quickest production SUV in the world. Starting at a price of $108,490, it may not be cheap, but it's worth every penny if you crave adrenaline-pumping speed and eco-friendly electric power.
Msrp: $260,000
The Urus Performante is Lamborghini's answer to the SUV speed race. With a blistering 0-60mph time of 3.3 seconds, it brings Lamborghini's racetrack heritage to the SUV segment. This Italian stallion's speed does not come cheap, though, with a starting price of $260,000.
Msrp: $235,000
The standard Urus follows closely behind its Performante sibling. With a 0-60mph time of 3.6 seconds and a slightly lower price tag of $235,000, it offers incredible speed for those who want the thrill of a Lamborghini in a more practical package.
Msrp: $88,175
Known for its driving dynamics, the Stelvio Quadrifoglio doesn't disappoint when it comes to acceleration. Matching the standard Urus with a 0-60mph time of 3.6 seconds, it's a testament to Alfa Romeo's racing heritage. You can own this piece of Italian engineering for $88,175.
Msrp: $59,995
Who said electric SUVs couldn't be fast and affordable? The Mustang Mach-E GT, with a 0-60mph time of 3.8 seconds, offers thrilling speed for a more modest starting price of $59,995. It's proof that the future of speed is electric!
Msrp: $190,490
With a 0-60mph time of 3.8 seconds, this German machine carries AMG's performance pedigree into the SUV market. It's a bit pricey at $190,490, but if you want a luxurious SUV that can go really, really fast, it's worth a look.
7. Tesla Model X (0-60mph – 3.8 seconds)
Msrp: $98,490
The standard Model X is no slouch, even compared to its Plaid sibling. With a 0-60mph time of 3.8 seconds and a starting price of $98,490, it offers supercar-like acceleration in an eco-friendly electric package.
Msrp: $122,300
Another contestant from the German carmaker family, the BMW X6 M Competition, makes the 0-60mph sprint in 3.8 seconds. Starting at $122,300, it blends power, luxury, and the practicality of an SUV seamlessly.
9. Audi RSQ8 (0-60mph – 3.8 seconds)
Msrp: $125,800
Last but not least, the Audi RSQ8 wraps up our list. It matches the acceleration time of the BMW X6 M Competition and the standard Tesla Model X, reaching 60mph in 3.8 seconds. Priced at $125,800, it embodies Audi's spirit of "Vorsprung durch Technik" (Advancement through Technology).
In conclusion
These rapid SUVs deliver both the practicality you'd expect from a family car and the kind of breathtaking speed you'd typically only find in high-performance sports cars. If you're in the market for a speedy SUV, there's a range of options available to fit every taste and budget.
We hope this list has satisfied your need for speed. If you want to know more about the fastest SUVs, or you're interested in SUVs that are perfect for large families, or those with great fuel economy, we invite you to explore our other articles. Happy driving!
Disclaimer: The prices mentioned are starting prices and may vary according to options and packages. The 0-60mph times are manufacturer estimates and can vary based on various factors.