As the Indian automotive market continues to evolve, SUVs have gained significant popularity among consumers. These sports utility vehicles offer a perfect blend of power, space, and style, catering to the diverse needs of Indian families.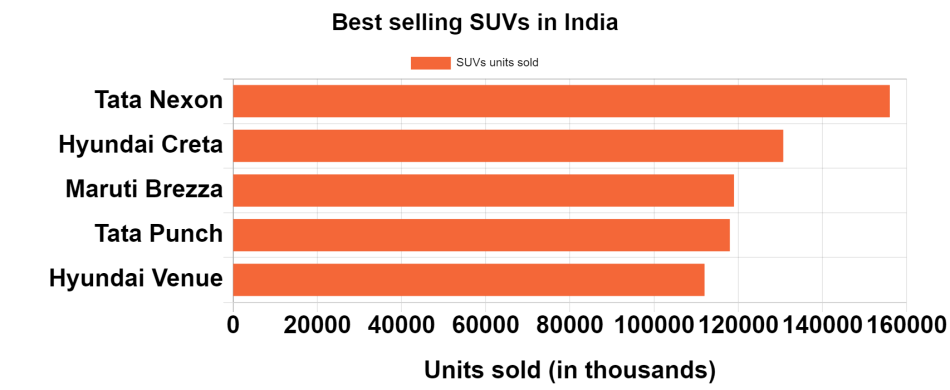 These are the best-loved SUVs of 2023 in India, taking into account factors such as design, performance, fuel efficiency, and overall value for money.
1. Tata Safari
Number #1 best loved suv in 2023 in India🚙
The Tata Safari has always been a crowd favorite, and the 2023 model is no exception. Known for its rugged design and robust performance, the Safari is the perfect companion for both urban and off-road adventures.
With a powerful 2.0-liter turbocharged diesel engine, the Safari offers a smooth and enjoyable drive. The spacious interiors and premium features, such as a panoramic sunroof and touchscreen infotainment system, make it a top choice for families looking for comfort and luxury.
2. Mahindra XUV700
The Mahindra XUV700 has won hearts with its striking design, advanced technology, and unmatched performance. This 7-seater SUV is equipped with a 2.0-liter turbo-petrol engine or a 2.2-liter diesel engine, both of which deliver impressive power and torque.
The XUV700 also boasts a host of smart features, including a 10.25-inch touchscreen infotainment system, a digital instrument cluster, and advanced driver-assist systems such as adaptive cruise control and lane-keep assist.
3. Hyundai Alcazar
The Hyundai Alcazar has made a strong entry into the Indian SUV market with its elegant design and feature-rich interiors. Available in both 6 and 7-seater configurations, the Alcazar is powered by either a 2.0-liter petrol engine or a 1.5-liter diesel engine.
The SUV also comes with Hyundai's signature Blue Link connected car technology, which offers remote engine start/stop, geofencing, and a suite of safety and convenience features. Its plush interiors and smooth ride quality make it a strong contender for the best-loved SUV of 2023.
4. Kia Seltos
The Kia Seltos has been a popular choice since its launch, and the 2023 model continues to uphold its reputation. With a sleek design and a host of advanced features, the Seltos is a perfect blend of style and functionality.
Available in both petrol and diesel engine options, the Seltos offers a comfortable and fuel-efficient driving experience. Its modern infotainment system, ventilated seats, and connected car technology further elevate the overall ownership experience.
5. MG Hector Plus
The MG Hector Plus is a versatile SUV that offers ample space, comfort, and performance. With a choice of a 1.5-liter turbo-petrol engine, a 2.0-liter diesel engine, or a petrol-hybrid powertrain, the Hector Plus caters to a wide range of preferences.
The spacious interiors, panoramic sunroof, and 10.4-inch touchscreen infotainment system make it a popular choice among families. The i-SMART connected car technology and advanced safety features like a 360-degree camera and electronic parking brake add to the SUV's appeal.
Conclusion
The Indian SUV market has something for everyone, and the top contenders for the best-loved SUV of 2023 showcase the diversity and innovation present in this segment. These vehicles offer a blend of performance, comfort, and cutting-edge technology that appeals to the modern Indian consumer. As the market continues to evolve, we can expect even more exciting and innovative SUVs to grace our roads in the coming years.
Main image courtesy: Tata