Ok, so you are thinking of upgrading your car to an SUV, but the potential insurance costs may scare you off. Firstly, put your fears aside because SUVs are cheaper to insure than the average family sedan.
The reason SUVs cheaper to insure than passenger cars are many and varied. However, it mainly comes down to the size, capabilities and technologies crammed into these big cars.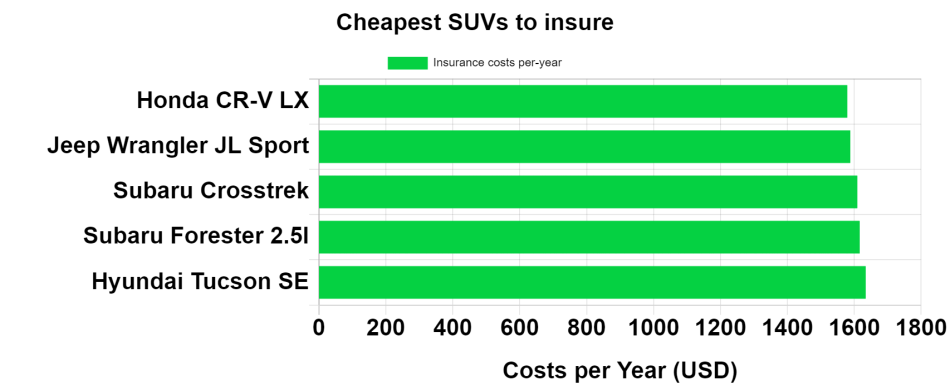 The cheapest SUV models to insure
The rise in popularity of SUVs over the past 15 or more years is nothing short of spectacular. The falling insurance rates of these cars coincides with their improving fuel efficiency numbers, safety tech and maintenance makes them more attractive to potential buyers.
However, before you run out to switch the family car to an SUV, just know not all of them will be cheap insure. The insurance companies take into consideration many vehicle stats to derive their rates (we won't go into those).
We've compiled data from insurify.com and compare.com of the cheapest 2023 SUVs to insure. These prices will vary by state and city of course, so your final insurance cost for the year maybe cheaper or a touch more expensive.
2023 cheapest SUV models to insure
| Position | SUV model | Yearly insurance |
| --- | --- | --- |
| 1 | Honda CR-V | $2,660 |
| 2 | Honda HR-V | $2,682 |
| 3 | Chevrolet Traverse | $2,759 |
| 4 | Mazda CX-5 | $2,790 |
| 5 | Honda Pilot | $2,809 |
| 6 | Ford Escape | $2,839 |
| 7 | Chevrolet Equinox | $2,840 |
| 8 | Volkswagen Tiguan | $2,899 |
| 9 | Subaru Outback | $2,907 |
| 10 | Subaru Forester | $2,911 |
Yearly insurance cost of the 10 cheapest SUVs to insure for 2023
Main image courtesy: Honda, Ford