If you are looking for a reliable, comfortable car that can handle all of your family's needs, look no further than this list of three of the most popular and loved SUVs of all time. These three cars represent top quality at affordable prices to match almost any family's budget.
Whether you are looking for a versatile commuter vehicle or an off-road adventure machine, these vehicles will have something to offer everyone.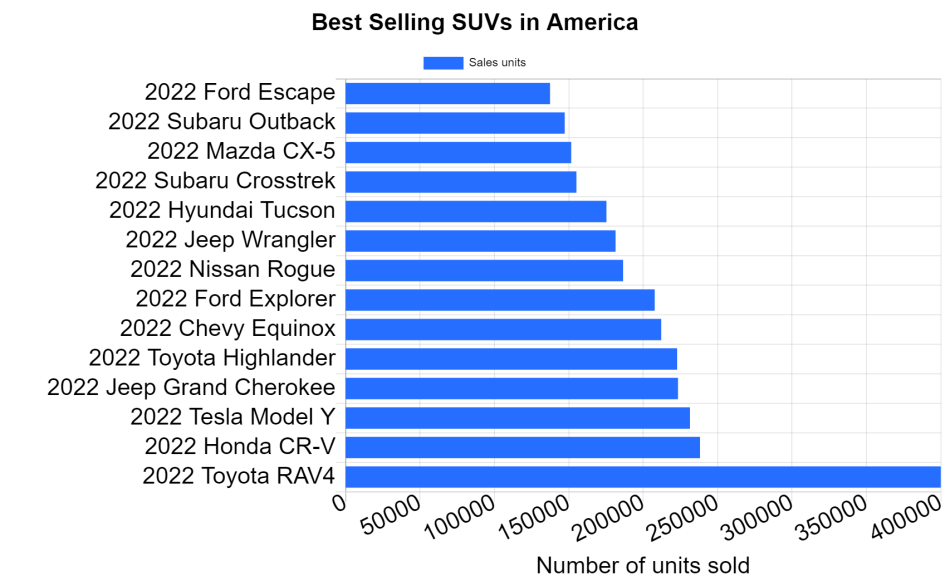 So let's take a look at why people love these SUVs so much.
1. Toyota RAV4
The Toyota RAV4 is one of the most popular compact SUVs on the market today. It offers plenty of space for passengers and cargo, as well as great fuel economy and reliability.
The RAV4 has been around since 1996 and continues to be one of the top-selling cars in its class. It also offers great value for money with its low starting price tag and many available features.
2. Honda CR-V
The Honda CR-V is another incredibly popular SUV that has been around since 1995. It offers outstanding reliability, excellent fuel economy, and plenty of interior space for both passengers and cargo.
The CR-V is known for its comfortable ride quality and responsive handling characteristics which make it an ideal vehicle for long road trips or everyday commuting duties. On top of that, it also comes with plenty of advanced safety features as standard equipment which helps to keep you safe on the roadways.
3. Ford Escape
The Ford Escape is a midsize SUV that has been around since 2000. It offers plenty of room inside while still being able to fit into smaller parking spaces with ease thanks to its smaller exterior dimensions compared to other midsize SUVs on the market.
The Escape also comes with plenty of standard features including Bluetooth connectivity, rearview camera, keyless entry system, satellite radio, heated front seats, power adjustable driver's seat, etc., making it an excellent choice for those who want a feature-packed vehicle without breaking their budget.
Conclusion:
The vehicles listed above represent just some of the most popular and loved SUVs from over the years but there are many more out there that could easily be added to this list.
Whether you're looking for a reliable commuter car or an off-roading powerhouse, there's sure to be something out there that fits your needs perfectly! So don't wait any longer – go out and find your perfect SUV today.
Main image courtesy: Ford