The smallest SUVs on the market today are typically categorized as subcompact or even city cars.
These small SUVs offer drivers the benefits of a larger SUV with the added benefit of being easier to navigate city streets. Smaller SUVs are more fuel efficient, typically cheaper to purchase and insure, and easier to park.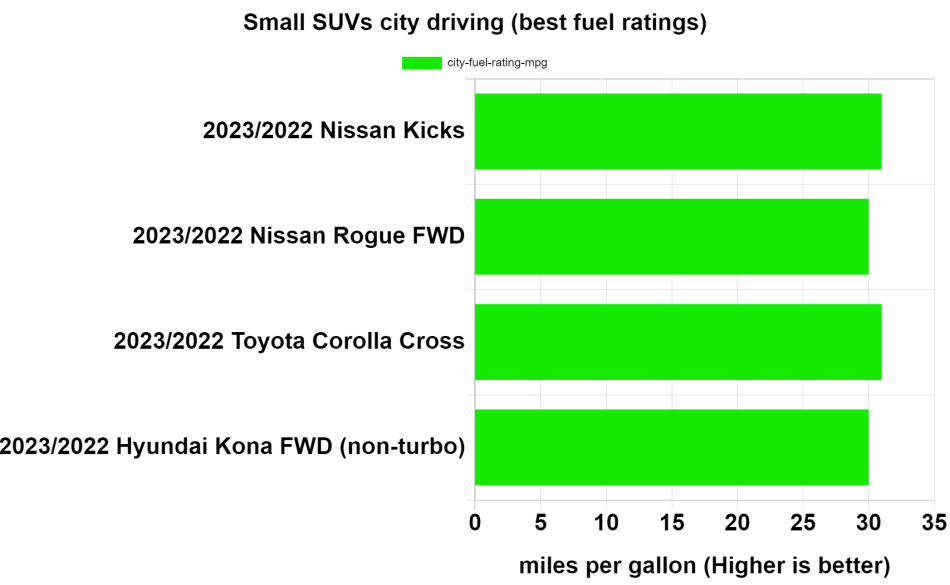 Reasons to buy a subcompact (small) SUV
Small SUVs are perfect for those who are looking for practicality and convenience in a smaller package. They offer the same versatility of a regular sized SUV, such as the ability to transport larger items, while also providing better maneuverability and handling on the roads.
Small SUV fuel efficiency
Smaller SUVs are also more fuel efficient, often boasting mileage ratings that are higher than those of regular sized SUVs. For example the most affordable subcompact SUV, the 2023 Hyundai Venue gets an EPA-estimated 29 city and 33 highway with a 31 combined mpg (7.5 L/100 km).
Small SUVs just as safe as larger vehicles
The 2022 Mazda CX-30 tops the iihs safety list, achieving best ratings in virtually every categories. Modern small SUVs are more reinforced internally than older models with lighter stronger materials.
In terms of safety, small SUVs are designed with similar safety features and technologies as their larger counterparts. They typically have similar airbag designs, and are designed with advanced crash protection systems. Additionally, many small SUVs have standard all-wheel drive capabilities, which can provide added traction and stability in inclement weather.
Main image courtesy: Hyundai