Canadians are increasingly opting for Sport Utility Vehicles (SUVs), helping to drive competition and innovation in this vehicle segment. So we got curious about Canadians' SUV shopping preference – turns out, there are some similarities to their US neighbors.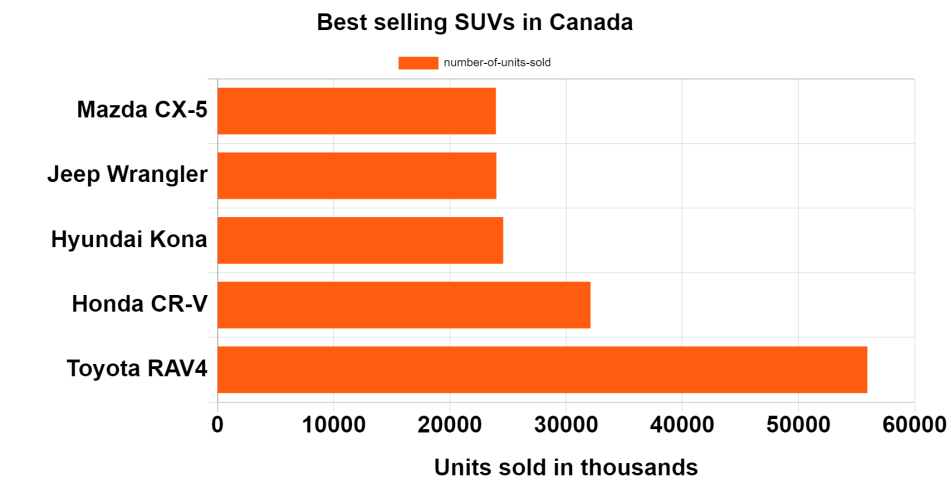 We used data compiled by popular vehicle site Driving.ca, see their breakdown of sales figures of the top 10 overall best selling cars. In this post, we're revealing the top 5 best-selling SUVs in Canada and what makes them so popular.
5. Mazda CX-5
Starting Msrp: $31,250 CAD
Number of Units sold: 23,954
Rounding out the top five is the Mazda CX-5 with 23,954 units sold. Starting at $31,250 CAD, the CX-5 is celebrated for its sporty handling, upscale interior, and excellent safety scores.
4. Jeep Wrangler
Starting Msrp: $43,790 CAD
Number of Units sold: 23,994
The Jeep Wrangler, an icon of adventure, sold 23,994 units. With a starting MSRP of $43,790 CAD, it offers unmatched off-road capabilities and a rugged design that stands out from the crowd.
3. Hyundai Kona
Starting Msrp: $43,790 CAD
Number of Units sold: 24,579
Hyundai Kona, a compact SUV, comes in third place with 24,579 units sold. It's a great choice for urban dwellers looking for a stylish, nimble, and fuel-efficient vehicle. It starts at an accessible price point of $25,306.2 CAD.
2. Honda CR-V
Starting Msrp: $36,373.50 CAD
Number of Units sold: 32,096
The Honda CR-V has long been a favourite among Canadians, and its impressive sales figures reflect this. With an MSRP of $36,373.50 CAD and 32,096 units sold, the CR-V offers a comfortable ride, ample cargo space, and advanced safety features.
1. Toyota RAV4
Starting Msrp: $35,874.50 CAD
Number of Units sold: 55,921
The Toyota RAV4 takes the crown as Canada's best-selling SUV. Known for its reliability and fuel efficiency, the RAV4 is a trusted companion for many Canadian families. With a starting MSRP of $35,874.50 CAD and 55,921 units sold, it's clear the RAV4 has a lot to offer.
The RAV4 is the best selling SUV in America and Canada, unity👍.
Conclusion
Sometimes it's best to go with "the wisdom of the crowd" and you live Canada (or are just curious about what Canadians drive), the people have spoken. But, before making a decision, it's essential to consider the average cost of ownership, the car's safety ratings, and whether it fits your specific lifestyle and budget.
With so many quality options available, it's no surprise that SUVs are leading the charge in the Canadian auto market. Stay tuned for more updates on the evolving world of SUVs!