When it comes to buying a car, the purchase price is only part of the equation. After all, what's the use of getting a deal on the upfront cost if you're going to be paying through the nose for insurance?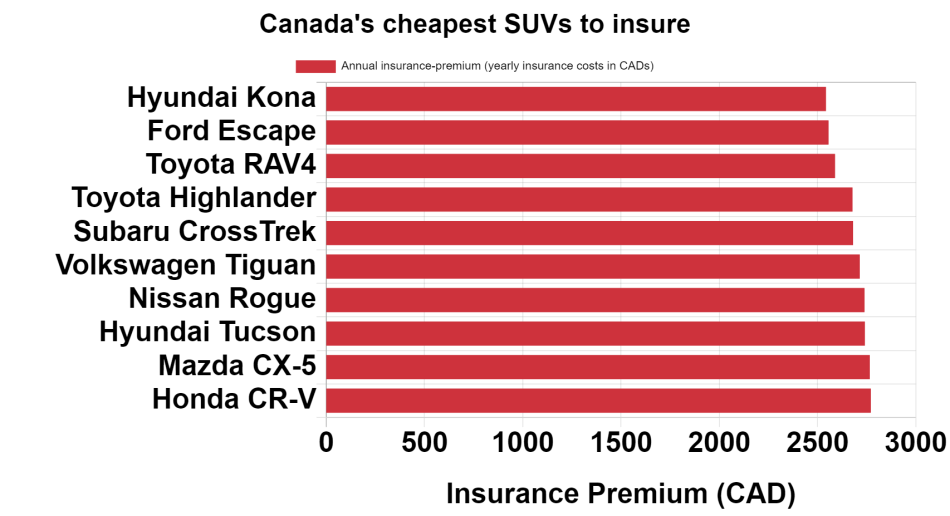 For our Canadian readers looking for the most affordable options, we've got your back. Here are the 10 SUVs with the lowest insurance rates in Canada. We've complied this list from insurance aggregator site Mychoice.ca, see their article for even more incite.
1. Hyundai Kona – $2,543 CAD per year
The Hyundai Kona takes the top spot for the cheapest SUV to insure in Canada. It's a compact SUV with plenty to offer: great fuel efficiency, sporty handling, and a comfortable interior. It's the perfect choice for those looking for a cost-effective yet stylish ride.
2. Ford Escape – $2,556 CAD per year
Ford Escape holds its own in terms of insurance cost. Known for its robust power, good fuel economy, and spacious interior, the Escape is a reliable choice for families or individuals who need a little more room.
3. Toyota RAV4 – $2,589 CAD per year
Toyota RAV4 is a compact SUV that comes with a reasonable insurance rate. Its combination of a spacious interior, excellent safety ratings, and smooth ride make it a great vehicle to insure.
The Toyota Highlander is another excellent choice. With its top-notch safety features and comfortable seating for up to eight, it's a solid choice for families.
Subaru Crosstrek's reasonable insurance rate is yet another reason to consider this compact SUV. Its off-road capabilities and standard all-wheel drive make it perfect for adventure seekers.
Volkswagen Tiguan is a compact SUV that has a reasonable insurance rate. The Tiguan offers a spacious and high-quality interior, making it a popular choice among small SUVs.
7. Nissan Rogue – $2,739 CAD per year
The Nissan Rogue is a compact SUV with a spacious, high-quality interior, and comes with a reasonable insurance rate. Its impressive fuel efficiency and cargo space make it a great option for families or road trippers.
The Hyundai Tucson offers a balance of quality and value, making it a popular choice among compact SUVs. Its user-friendly features and comfortable ride also contribute to its reasonable insurance rate.
9. Mazda CX-5 – $2,766 CAD per year
The Mazda CX-5 ranks high for its athletic performance, upscale and spacious interior, and exceptional safety scores. Plus, it's one of the most affordable SUVs to insure in Canada.
10. Honda CR-V – $2,771 CAD per year
Last but not least is the Honda CR-V. This compact SUV is known for its spacious, high-quality interior, great fuel economy, and loads of standard safety features. No wonder it rounds out our list of the cheapest SUVs to insure!
These SUVs offer an exceptional combination of value, performance, and affordability when it comes to insurance rates. Each of them could be a fantastic choice, depending on your individual needs. The links to our in-depth guides about each model will provide even more information for you to make an informed decision.
Conclusion
To end this off, don't forget that insurance rates can vary based on many factors, including your driving history, location, and more. Make sure to get multiple quotes before deciding on your policy. If you're looking to buy one of these SUVs or any other type, check out these online platforms to find the best deal for you.
Remember, the car you drive can make a significant difference in your wallet when it comes to insurance costs. Choosing one of the cheapest SUVs to insure in Canada can provide you with peace of mind, knowing you're covered without breaking the bank.
Happy driving, Canada 🍁!
Main image courtesy: Subaru