The 2023 VinFast VF 9 is an all-electric SUV that has garnered attention for its exceptional design, performance, and range. However, its luxurious and technologically advanced interior is where the vehicle truly shines. The car comes a with starting msrp of $83,000 USD.
From its spacious seating arrangement to its wealth of convenience features, the VF 9 offers a driving experience like no other. In this article, we'll explore the interior details of this extraordinary SUV and see how it compares to the competition.
Seating and Comfort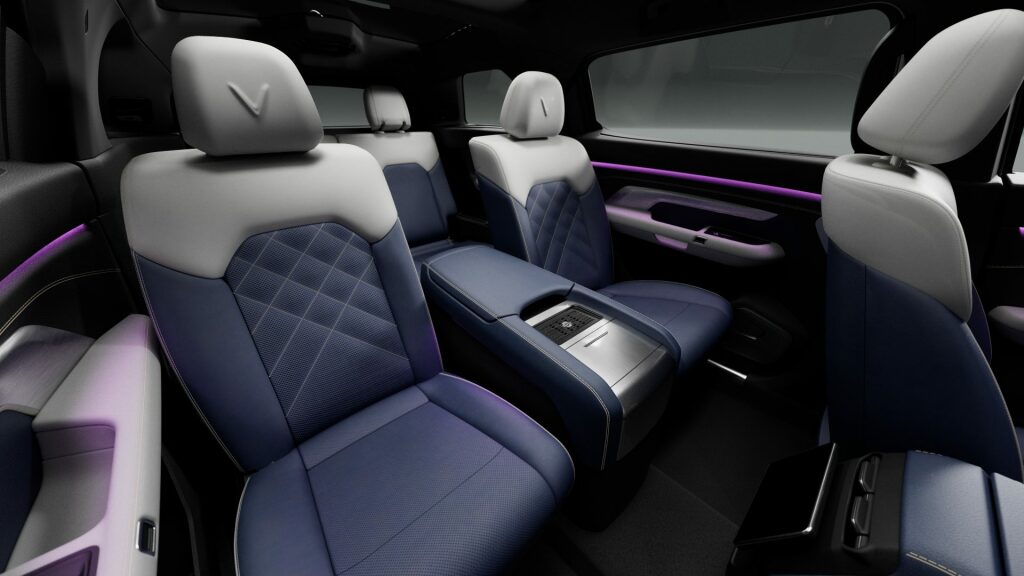 The VinFast VF 9 boasts a spacious cabin, offering seating for up to six or seven passengers. The standard configuration includes synthetic leather upholstery and an array of power-adjustable driver and passenger seats, with optional features like ventilation, heating, and massage functions. Second-row seats are equally impressive, with available captain chair seating, power adjustment, and heated and ventilated seats. Third-row passengers also enjoy adjustable and folding seats for added versatility.
Comparing the VF 9 with other luxury SUVs, such as the Maserati Grecale Folgore, the VinFast model offers superior seating capacity and comfort features at a competitive price point.
Technology and Infotainment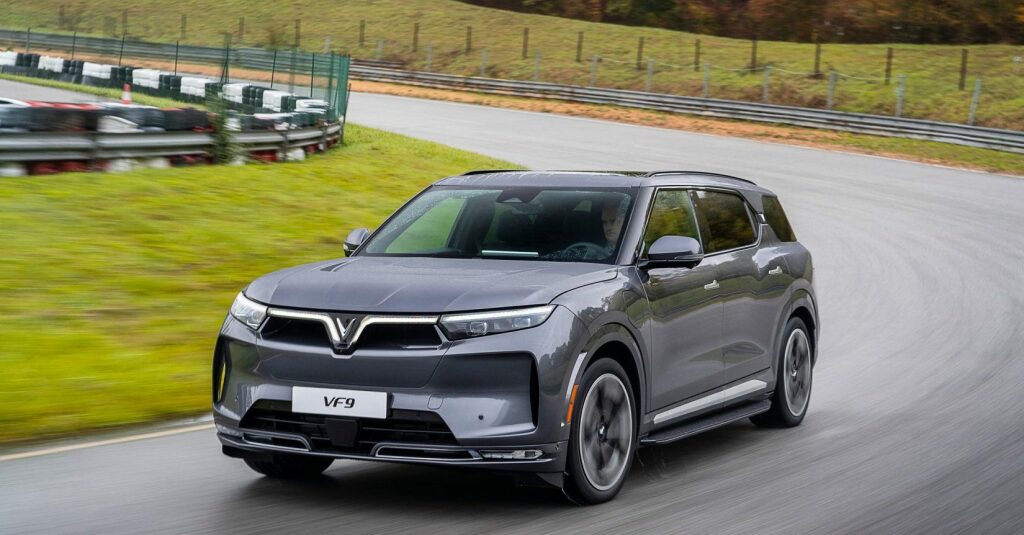 The VinFast VF 9 is loaded with advanced technology that enhances the driving experience. The centerpiece of its infotainment system is a stunning 15.6-inch screen that provides access to features like smartphone mirroring, audio and video streaming, and optional services such as smart home control and e-commerce.
Additionally, the SUV comes with a head-up display, multiple USB ports for charging devices, Wi-Fi connectivity, and a built-in hotspot. Unique convenience features like pet mode, camp mode, and bath mode ensure that the VF 9 caters to every passenger's needs.
In terms of tech, the VF 9 holds its own against the competition, including the 2024 Hummer EV SUV and the 2023 Kia Telluride.
Safety and Driver Assistance
The 2023 VinFast VF 9 excels in the safety and driver assistance department, offering a suite of features designed to protect its occupants. With 11 airbags, child detection, occupant status detection, and an array of advanced driver assistance systems, the VF 9 goes above and beyond to ensure a safe driving experience.
Some of the notable driver assistance features include adaptive cruise control, lane departure warning, lane keep assist, and advanced automatic emergency braking. Optional features like traffic jam assist, highway assist, and fully automatic parking assistance elevate the VF 9's capabilities even further.
Considering the high level of safety and driver assistance features, the VF 9 can compete with the best in the segment, such as the Hyundai Venue and the Chevrolet Bolt EUV.
Technology features of the Vinfast VF9
Infotainment Screen – 15.6 inches
Head Up Display – Yes
Front Row USB Ports (Type-A) – 2
Second Row USB Ports (Type-A) – 4
Third Row USB Ports (Type-A) – 2
Rear 90W USB-C Port – Yes
12V Outlet in Cargo Area – Yes
AC Power Outlet – Yes
Wireless Charging – Yes
WiFi Connectivity – Yes
WiFi Hotspot – Yes
Bluetooth – Yes
Keyless Entry – Smart Key
Auto Unlock on Approach – Yes
Backup Camera – Yes
Smartphone Mirroring – Yes
Audio Entertainment – Optional
Video Streaming – Optional
Games – Optional
Web Browser – Optional
Smart Home Control – Optional
Schedule and Contact Sync – Optional
Text to Speech/Speech to Text – Yes
E-commerce (i.e. ordering food) – Optional
Scheduling Service – Optional
Final Thoughts
The 2023 VinFast VF 9 SUV is not only a powerful and efficient electric vehicle but also a luxurious and tech-packed marvel. Its spacious and comfortable interior, advanced technology and infotainment features.
Sure it doesn't have the longest driving range amongst many new 2023 all-electric suvs, but for a luxury class model it's actually near the mid-point and above.
Main image courtesy: Vinfast